Speaking of Space . . .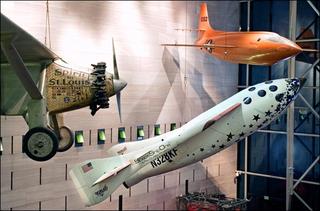 Burt Rutan
's X-Prize winning venture, Space Ship One - the first civilian craft to fly in space, is now hanging in the
National Air and Space Museum
right between the X1-Bell and The Spirit of St. Louis. I imagine Rutan rightly feels some measure of pride in such an auspicious accomplishment, but it can hardly be an unfamiliar feeling for him. He needs only look across the lobby to see another of his designs, Voyager - the first aircraft to circle the globe without stopping or refueling. Wow.